Hsien-Ko (Gem Fighter)
From FVWiki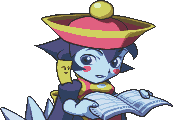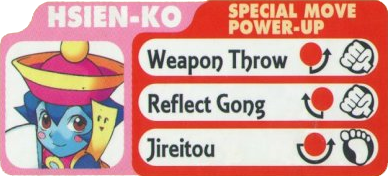 Basic Strategy
[
edit
]
Be really gay. She can outpoke people and then mix them up with teleports and unlimited airdashes. Use tenraiha and tenkaisen liberally. Run away with super jump airwalk at any opportunity, they can't do anything. Remember to roll out of corners. She struggles when the opponent stays in her face. Mash

and
+

. Just teleport when they try to poke. PPP
Grand Master Strategy
[
edit
]
Do Tenraiha and then press S
Ground vs Ground
[
edit
]



: For most ground situations. Stopping at the first or third hit is safe but the second hit is unsafe. Don't just always do three though or you'll be very predictable to Alpha Counter. Do four if you know theyre gonna jump for some reason. Do 623+S after PPP if you hate meter.

: A great move. Use it to get people off of you since it pushes them far away if it counterhits and will beat some ground moves due to its hitbox.

+

: Not sure exactly when to use this yet. Really slow.
+

: Slow. Need to try it out more.
+

: Her fastest normal and a low. Mash this if people are pressuring you too close. Cancels into super.

+

: For more painful punishes or poking. Pretty safe from a distance. Just don't let someone jump over it.
+

: A cute slide for catching people standing or walking. Really unsafe at certain distances.



: Air unblockable. Use it to punish a tech or predict a jump. Punishable on block.

+

: Normal throw. Nothing special. You can combo after if they don't tech.

+


: Teleporting dash. Forward dash with invincibility. Good for mixups and evasion. Has some startup. Cancelable with some normals.


: Anki Hou. Really slow. Probably best at Level 3.


: Henkyou Ki. Reflects most projectiles (not Sakura's?)

: Chirei Tou. No idea. You can do it on wake up with just S.

+

: Houten Geki. No idea, but it looks cool.


/



: Tenkaisan. Super fast and can be used to poke. If they're not blocking before the flash they'll get hit. Really safe when blocked, not so safe when whiffed. It will catch the lower jump frames though.


/



: Rairai Kyuu. Best damage super. If it doesn't hit you won't stop until you touch the wall. Extremely risky. Not recommended outside of combos/punishes.

/




+

: Tenraiha. For when you just don't want to play the neutral game anymore. They can alpha counter to cut it short if you do it too close. Once they get hit by any balls they'll be able to air tech.

+

: Guard Cancel. If you block anything on the ground you can punish with Guard Cancel then link to Tenkaisan. Needs two bars. Usually don't do this on the first two hits of a Costume Combo cause they might get counter hit and then it won't work cause they'll be in a float state. Can also be used to just end some pressure.
Ground vs Air
[
edit
]

: For most normal jump in angles. It's pretty fast and it'll give you lots of space on counter hit. Whiffs if they're right in your face.

+

: Good damage. Kind of risky. I need to learn more about this.
+

: For higher and closer jump ins. You have to do it a little early. They will be able to tech after they're hit so get ready to reset them. (ch only?) An option against Tessa's divekicks.
+

: For very specific jump angles.

+

: For certain annoying angles.


: Anki Hou. You have to predict a jump. Not worth the risk usually.


: Henkyou Ki. Surprisingly great. Best when Blue Gems are at Level 2. You can set it on reaction to a jump and you will trade if they try to hit you. Good damage and knockback.

: Chirei Tou. I don't know when to do it.


/



: Rairai Kyuu. Never ever do this. You will die.

/




+

: Tenraiha. Situational anti-air. You can also do it farther away near the corner to get them to block the balls in the air and punish with a grounded move (cause it's unblockable).
Air vs Air
[
edit
]

: For people higher than you.

: For people lower than you.

+

: For people trying to block your air moves.


: Henkyou Ki. Haven't tried it out much.


/


: Air walk. Unlimited 2-way airdashes. Cancelable with the opposite direction. You can bait things sometimes.
Air vs Ground
[
edit
]


/


: Air walk. See above. Additionally you can jump over and airdash back to be confusing.

: Use kick instead.

: Slightly better hitbox than punch.


: Henkyou Ki. Seems almost useful???


: Air walk. Instant airdash is strict in this game. Normal IAD with


or


seems inconsistent so I use a very deliberate


. Do whatever works for you though. It's harder to link after IAD to ground normals due to fall speed or something. You can fix this by canceling the IAD with back before attacking but it's hard. Just use higher airdashes if your timing isn't working.

xx

xx

: A Costume Combo thats actually a combo.
+

xx


: Throw out 2P and buffer super. Safe if blocked.

,
+

xx


: Variation to trade damage for Gems.

,

,


+



: Video. Max damage punish?

+

,


: Cheap link from alpha counter or guard crush parry. Won't work if they're in a float state (anti-air or counter hit)

,
+

xx


: Counter hit only. Pretty dumb. Don't go for it. Naturally all variations work.
Hitbox and Frame Data
[
edit
]
Guide: Collecting Framedata and Hitboxes
Hitbox
Input
Startup
Active
Recovery
Hit
Block
Damage
Stun
Effect
Notes

6
4
10
+0
-1
3

Costume Combo

Throw invul.

Air unblockable

-13
-14

Costume Combo

Throw invul.

Air unblockable

+0
-1

Costume Combo

Throw invul.

Air unblockable

OR

-10

Float

Treasure Chest

Costume Combo

Throw invul.

Air unblockable

-12
-13

Costume Combo

Overhead

Throw invul.

Air unblockable

2 Hits

OR

Float

Treasure Chest (Lv. 3)

Costume Combo

Unblockable

Chargeable

Steal Red Gem

-12
-13

Costume Combo

Throw invul.

Air unblockable

-14
-15

Costume Combo

Throw invul.

Air unblockable

OR

+4

Float

Costume Combo

Throw invul.

Air unblockable

-21
-13

Costume Combo

Low

Throw invul.

Air unblockable

OR

Float

Costume Combo

Throw

Chargeable

+
5
4
15
-5
-6
1

Low

Special cancel

Super cancel

Throw invul.

Air unblockable

+
11
3 + 2
22
-4
-5
6

Float (CH)

Special cancel

Super cancel

Throw invul.

Air unblockable

+
12
4 (2 + 2)
28
-12
-13
5, 3

Float (CH)

Throw invul.

Air unblockable

14
3
21
-8
10

Float

Wallbounce (CH)

Earth Orbit (CH) (Max Stun)

Forward movement

Throw invul.

Air unblockable

6
4
17
+11 (best)
+10 (best)
3

Overhead

Throw invul.

6
4
18
-3
-4
6

Float (CH)

Throw invul.

Air unblockable

+
10
4
20
-17
8

Knockdown

Float (CH)

Low

Forward movement

Throw invul.

Air unblockable

+
12
2 + 4
24
-8
-9
8

Float (CH)

Throw invul.

Air unblockable

2 Hits

18
4
25
-6
8

Knockdown

Float (CH)

Low

Forward movement

Throw invul.

Air unblockable

6
2
18
+11 (best)
+10 (best)
6

Overhead

Throw invul.

29~89
5 + 3
30
4

Float

Treasure Chest (Lv. 3)

Unblockable

Chargeable

Steal Red Gem

+
34~94
4

Float

Wallbounce (CH)

Earth Orbit (CH) (Max Stun)

Treasure Chest (Lv. 3)

Unblockable

Chargeable

Steal Blue Gem

+
36~96
4

Float

Wallbounce (CH)

Earth Orbit (CH) (Max Stun)

Treasure Chest (Lv. 3)

Unblockable

Chargeable

Steal Yellow Gem

+
8
1
27
0

Float

Throw

18~98
45
-21
-22

Projectile

Red Gem Level

Throw invul.

OR

(During wake-up)

9
20|38|54
-41

Float

Projectile

Yellow Gem Level

Throw invul.

12
16|80|150
28
-10|-26|-42
-11|-27|-43

Projectile

Blue Gem Level

Throw invul.

Projectile

Blue Gem Level

Throw invul.

OR

6 + 0
∞
-33

Flatten

Super

1 Bar

Throw Invul.

10 Hits

OR

6 + 0
5
14 (block)

26 (whiff)

-4
0

Float

Super

1 Bar

Throw Invul. 3~10f

Air unblockable

20 Hits

OR

6 + 1
-35

Flatten

Super

Projectile

1 Bar

Throw Invul.

+

(During grounded blockstun)

3 + 0
5
11
+9
4

Treasure Chest

Float (CH)

Earth Orbit (CH) (Max Stun)

1 Bar

Full Invul. 1~5f

Unblockable

+ +
3 + 0
4(4)4(4)4(4)2
28
4

Float

Wallbounce (CH)

Earth Orbit (CH) (Max Stun)

Full Invul. 3~12f

Throw Invul. 3~56f

Unblockable

Lose all Gems

Lose all Meter

4 Hits